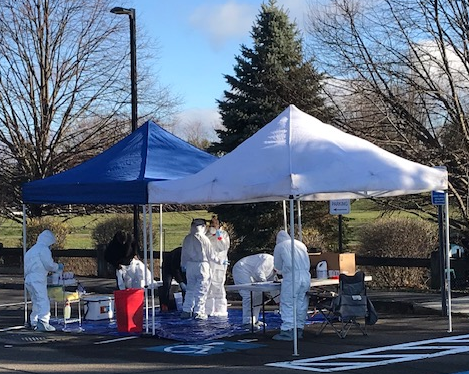 With assistance from volunteers, EMS, Fire, Police and the Board of Education, Murphy Medical was able to successfully test 45 Westport and Weston residents.
Today's drive-thru testing was met with a few challenges. Unfortunately, due to the shortage of swabs, some scheduled to test this morning had to be rescheduled. Those unable to test today were directed by Murphy Medical staff to alternate testing locations.  We will regroup, make some adjustments, and plan to restart our Westport Weston drive-thru testing site on Tuesday, March 31st at 8:30 am, weather and equipment availability permitting. Both the WWHD and Murphy are working to obtain additional testing swabs.
Appointments and required prescriptions can be obtained by filling out forms for Murphy Medical at www.coronatestct.com.
If you are experiencing flu-like symptoms, you are urged to call your physician/local health provider.  Testing is available by appointment only at hospitals around the state including Norwalk, Stamford and Greenwich Hospitals. To obtain an appointment at any of these locations, you will need a prescription from your physician/health care provider. Visit the hospital websites or call their hotlines for more information.